HE 2.2.3+ introduced an incompatibility with this conversion feature. Until it's fixed, do not update your JSON using BLANK values for row height and column width (a.k.a. "autofit") as it will trigger this conversion.
---
Loooooks like we made it Shania Twain singing in the distance
Now that we have Drag and Drop with [RELEASE] smartly 2.1.0 featuring smartly-inject, we've followed through and built a converter so that we all have access to the elusive and previously-unsupported [ARCHIVE][smartly] 'quarter height' and 'half width' tiles HOWTO.
Shoutout to my main man @techmedx for pioneering quarter-height half-width process, and @joehuntley for his work early on. It's about time we open it up to the masses

Click here to read up on the history of the SMARTLY grid, and what you gain by switching from BASIC to ADVANCED grid.
Since 2.0 hp4 - When updating a dashboard for the FIRST TIME, you'll automatically be using ADVANCED grid.
Enough nerd! convert my BASIC-■■■ grid to ADVANCED.
Backup your current JSON by copying the JSON from Settings > Advanced into a text file.
Go into your HE dashboard settings. [the gear, top right]
Clear both the Column Width and Row Height fields. [see Example 3]
Hit spacebar in both of those empty fields, which will make HE show a "NaN". [see Example 4]
Update your JSON with SMARTLY [not covering it in this post]
Example 3 - Clear both Column Width and Row Height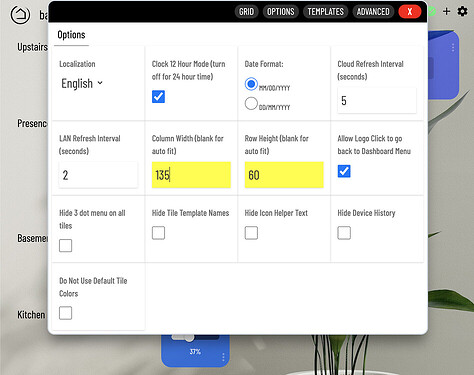 Example 4 - Hit spacebar in both of those empty fields, which will make HE show a "NaN".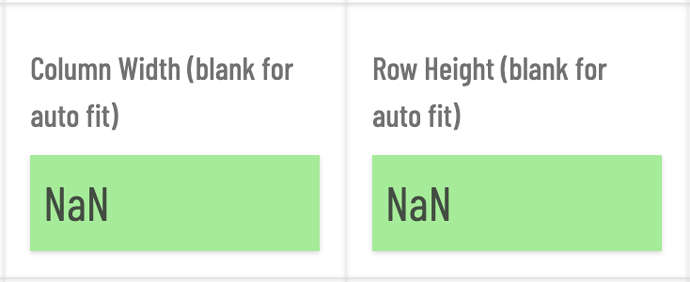 Okay, I'm a little interested in what's happening.
After updating your JSON, re-import it into your dash and save, it should look identical to how it was BUT you can now resize your tiles with laser precision like an absolute madman.
SMARTLY detects those null values, recognizes you want to ADVANCIFY your dashboard and will multiple the height and width of each tile by 2, then will update your Column Width and Row Height to the new fancy ADVANCED values of 60/22.