This was originally posted to HE forums by @TechMedX.
… a neat 'trick' I learned and want to share. Some of you may know this, but for those that don't here goes.
Tile Stacking - using multiple overlapping tiles to give the impression of a single more useful tile.
The tile on the left is somewhat obvious it is 7 tiles stacked 1 lock 1 contact for each door plus an oversized background tile with a group title.
The right side has 2 sets tiles each having a switch and a color bulb tile. This is great for easy on/of plus color control from "one tile"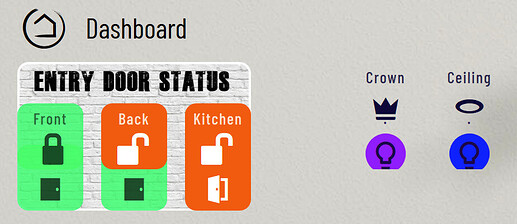 How To - Tiles are stacked by HE depending on the order they appear in the JSON. Tiles on top are created 1st and tiles that come after are placed on top. If you want a tile to be on top c/p it's JSON tile entry below that of the way you want to be "on top" of. Notice below I put tile 55 below 56. That change will make 55 be displayed second, and sit "on top" of 56.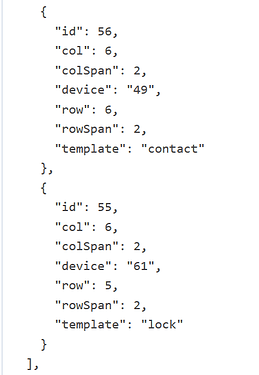 This can also by achieved by removing the tiles that are "behind" other tiles and then adding then back into your dash. This will create a new tile at the bottom of the list and bringing it "to the front"