Zigbee non-repeating controller and 2M strip $49.99 $34.99
Love these strips, just grabbed 3 more at that price. Thank you camelcamelcamel!!
Thanks, @TechMedX, this will be my first venture into the RGBW world.

It looks like I'll need an Element hub as well, right? Is it similar to the Lutron in the way it connects?
I use the Lutron nodes in node-red so I don't have anything in HE connected to it. I don't see similar nodes for Sengled so I'll have to go through HE, right?
No it will pair directly with HE. It'll end up being just another device in HE and then control it via maker like the rest.
Only a small sample, yeah I guess I like sengled lol (25 device total from them, all work great)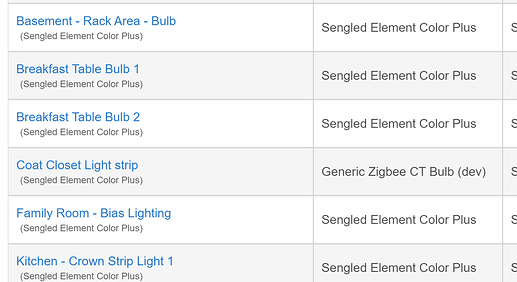 I used to rave about Sengled, but I have about 10 defective bulbs that I have tried to replace by Sengled. They raised an RMA well over 130 days ago and have since started ignoring me.
They seem to have no intention of replacing them
ooof that is rough, do you have any other recommendations on good non-repeating bulbs?
That sux to hear. Keep us posted on that. Hopefully it's just a supply chain issue (should communicate that if it is of course). Hate when companies don't stand by products.
I managed to get in touch with someone today after scouring the web for company employees and finding an email address.
Apparently they used to use Zendesk and they shut that down. except all contact details they have on their sites continue to use Zendesk, so it's not been updated in a year or so. They also shut the german office. So just lots of bad luck I guess. Still it's looking likely to be resolved. Least I haven't wasted £60