Got this notification today…so I guess I am in the market now for some outdoor smart plugs.
Can't do ZigBee or Z-Wave as I do not have that setup for this property, and ideally would want something local (tasmota for example) but I may just have to settle for some Kasa plugs. Any thoughts on where to look for some cheap ($30 max each) and local outdoor plugs that also interface with Alexa (even if it has to through NR)?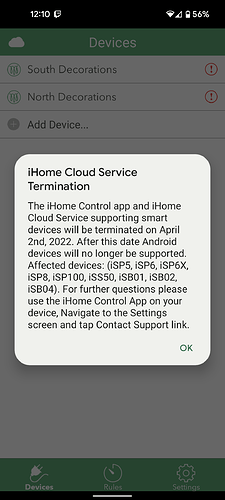 P.S. Unclear exactly who this affects but if there are any iOS or Homekit users that wants these (iHome iSP100 x2) PM me.
Also I love that they pushed it back a day to avoid the April Fool's confusion