After running Kiosker Pro with smartly for a LONG time, I've been on the search for a good alternative for a while now. Finally I figured out how to tame Home Assistant dashboards in a similar way, so I wanted to share my findings as well as my very limited expertise with the group.
"Nested" horizonal/vertical 'cards' create endless placement options within a contained space.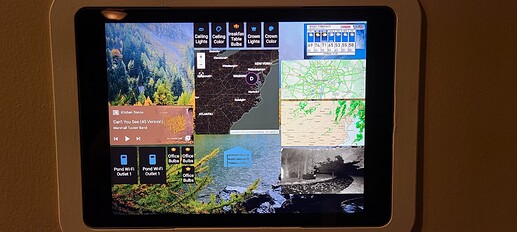 Yes some of the fine tuning, and glitter, needs to be done in YAML code (think CSS edits), but the basics can all be done in the visual editor. The above dashboard is 1 big card, with many cards nested inside.
It begins with the a Horizontal Stack Card shown below, followed by 3 vertical stack cards.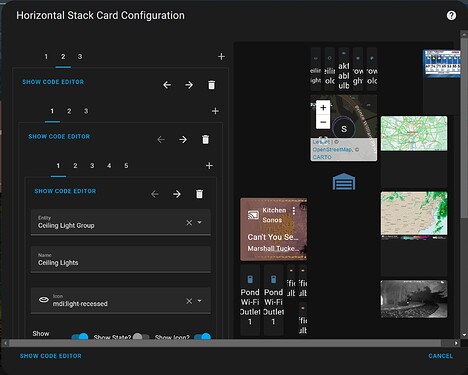 The top line I consider "Columns" 1, 2, and 3. Above I have column 2 selected, and "Row" 1 is being shown. Inside row 1 there are 5 button cards. These 7 items make up the top row of buttons in the center of my dashboard.
While the "preview screen" gives you a basic idea of what is happening, take it with a large grain of salt. You'll only know if final outcome of your edits when viewing it on the intended device, preferably at full screen if that is the end goal.
Below I had to drop my browser to 75% to show all the nesting that makes up the small buttons at the bottom of Column 1.
Following the numbers down would be (in my own words not official anywhere) Column 1, Row 3, (horizontal card), Section 3, Sub column 1, Button 1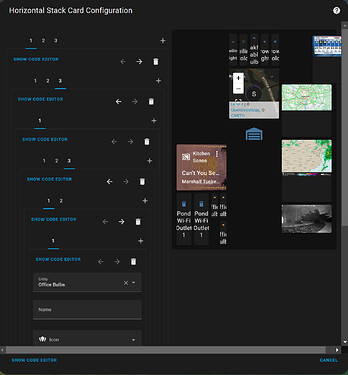 Without going into too much more detail I just wanted to throw this out there as an option. The HA forums and options can be VERY overwhelming. Doing my best to apply the smartly knowledge imparted to me by @spelcheck on HA dashes I offer my limited "expertise" to any OLL member trying to find a new dashboard alterative.