This is part of my on going Gate House Project. When we come home we use presence sensors to open the gate arm. We wanted a way to have the gate arm open when leaving without using our phone or other 'button' (or when guest leave). I'm posting this solution separately in case someone else has a separate use case for a similar setup.
Parts needed -
Wiring - To power the vehicle sensor I'm using the same low voltage transformer I use for my outdoor lighting. While testing I also used a 12v DC power supply, both are fine. The vehicle sensor has both a NO and NC contact wires. The Mono price sensor has binding posts for external contact, but I could not get them to work (could be me). Instead I wired the NO blue wire to one side of the reed switch, and the white 'common' wire to the other.
Activation/Trigger - When a metal object passes with-in range of the unit the contact is closed. Since there is no magnet near the contact sensor it will always remain "open", unless the vehicle sensor bridges the circuit. When the vehicle sensor does close the circuit we can track that action in HE, and act on it (gate arm up/down).
Cartell vehicle exit sensor (wired) (in final install puck was attached to the conduit and buried)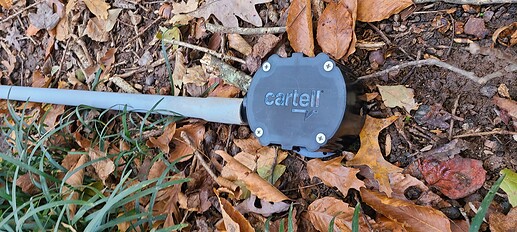 Monoprice contact sensor wiring.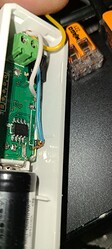 Company thought - In setting this up I had to call the company to figure out the wiring. I had to leave a message but they called me back in about 30 minutes. The guy that called was knowledgeable and worked me through the circuit questions I had.